Over Two Decades of Experience
Solutions Built For Your Needs
My firm is dedicated to providing clients throughout the Commack, New York area with the personalized assistance they need. I practice family law, divorce, and criminal law because my clients often need support in a variety of areas. No matter what your situation entails, know that I can help guide you forward.

When you or a loved one has been accused of a crime in Suffolk County, know that my door is open. I investigate every case and fight for every client with the focused attention they deserve. For a trustworthy advocate, call my office in Commack, New York now to schedule a free case evaluation.

Whether you're facing a criminal charge, navigating a family law dispute, or both, I'm the versatile lawyer you need in your corner. I can help litigate child custody and support disputes and even serve as a mediator to lead you and your former spouse toward a peaceful divorce outcome outside of court. Call me today to start pursuing a lasting legal solution.
Attorney Concentrating in
Criminal Defense,
Family Law, and Divorce
in Commack, New York
Joel R. Salinger
Attorney at Law
Since 1998, New Yorkers have placed their trust in me to advocate for their rights. I have successfully represented thousands of clients in divorce and family law cases as well as defended an almost equal number of individuals charged with serious criminal allegations, DWIs/DUIs, and other traffic offenses. Oftentimes, I find that my clients are in situations where they require representation in a combination of my services, and I'm proud to be able to provide the comprehensive care they need. If you're seeking legal help in the Suffolk County area, contact my firm in Commack, New York to schedule a free case evaluation.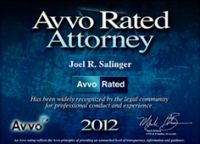 Which Divorce Option
Reflects Your Situation?
Contested
The anatomy of a contested divorce is disagreement. Either one spouse doesn't want the marriage to end, or you're not seeing eye-to-eye on key issues like child custody and asset distribution. I'm here to help.
Uncontested
On the contrary, an uncontested divorce involves a separating couple who are on the same page about major decisions. If this sounds like you, reach out to me to discuss your options for collaborative law and mediation.
Legal Separation
A legal separation allows you and your partner to remain married while choosing to live separate lives. Call my office today in Commack, New York to discover the advantages of taking this route.
Challenge Your DUI/DWAI/DWI Charge
The stakes for a drunk driving conviction in New York are high — consequences such as jail time, probation, increased insurance rates, and driver's license suspension can leave lasting impacts on your life and future job opportunities. With over 20 years of experience, I'm qualified to challenge your DUI charge. I know common mistakes traffic cops make and how to fight for the fair result you deserve. If you were arrested for a DUI/DWAI/DWI in Long Island, Commack, or in the Suffolk County area, call me today for a free case evaluation.
Testimonials
What My Clients Have to Say
Joel handled my divorce after a decade-long marriage that included three children. Joel was professional, compassionate, and incredibly knowledgeable. He made himself available at abt time to answer my questions and he saw the matter through to a very thoughtful conclusion that was agreeable to all involved. I will and have recommended
Joel was great at handling my divorce situation. I have nothing but good things to say about Mr. Salinger, he was always professional and helped me achieve the outcome I was hoping for. Divorce is an emotional situation, and I was helped through the process by trusting in my attorney and taking his advice.
Mr. Salinger was extraordinary. His negotiation skills were sensational. He handled my divorce and was able to help me obtain an outcome that everyone said was impossible. I was going through a health crisis at the time and Joel was more than an attorney, was a friend too. I will never forget his patience and emotional support. Something you don't expect from your lawyer.
Legal Blog Posts
Divorce & Family Law Blog
Top 10 Legal Mistakes in Divorce Here's how to avoid or deal with the top 10 legal mistakes:
READ MORE
When you're accused of a crime, it can feel like your life is going off the rails. Your freedom, your finances, your future, and your family all feel threatened and suddenly out of reach. I understand the fear you're experiencing and the consequences you're up against.
Conviction alone can result in hefty fines, probation, prison time, suspended license, and a criminal record. If you're found guilty, numerous repercussions will also affect your life and the ones you love. Choose me as your criminal defense lawyer. I handle a wide range of criminal matters, from white-collar offenses to drug charges, violent crimes, and more.
I also have ample experience in defending cases of DUI/DWAI/DWI and other traffic offenses. When you receive a ticket in or near Commack, New York for speeding, running a red light, or texting and driving, place your trust in a local attorney.
No matter what charge you need to be challenged, you deserve a fearless defender. You have rights and a future worth fighting for. Rely on me to protect your rights and fight for a fair outcome. I defend those throughout Long Island and Suffolk County, New York.